Outdoor Living
Our Crown Center Community Garden exists to create a space where a sense of community and fulfillment is fostered around cultivating fresh produce, while beautifying the environment around us.
Our Happy Planters gardening program involves partnerships that developed our community garden beds and onsite greenhouse.  The goal is to foster a healthy environment where both people and plants can grow together.  Our caring community welcomes you to participate in a variety of programs on seed saving, fall planting, pest maintenance, and other timely topics.
Crown Center resident gardeners along with retirees from the surrounding neighborhood come together to harvest health, community and compassion from our shared garden.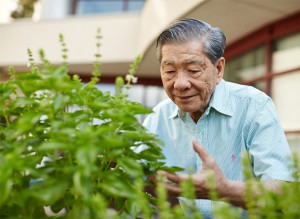 If you're not a gardener, you are welcome to enjoy our beautifully landscaped grounds – join a group to practice Tai Chi, try out our accessible Outdoor Fitness Equipment, or relax in the shade with a good book.
Download our latest Menu & Event Calendar or give us a call to find out how you can connect with others who enjoy the outdoors.