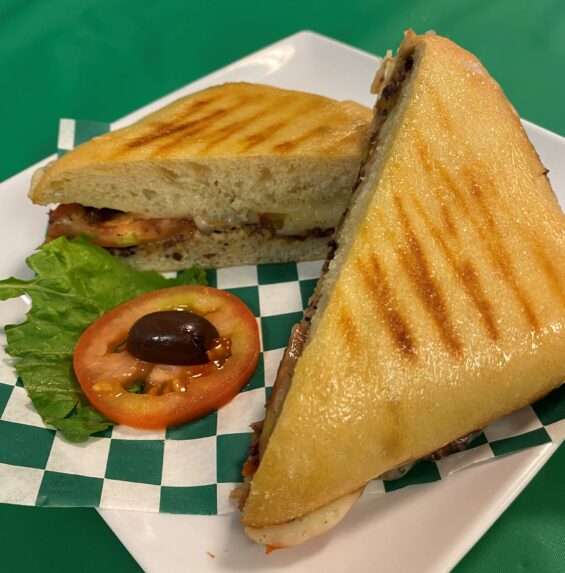 Local Eat of the Week: Circle@Crown Café's Mediterranean Panini
ALEC BARIS, DIGITAL ENGAGEMENT ASSOCIATE October 25, 2021
While searching for St. Louis' best and most affordable meals, I stumbled upon a hidden gem at Crown Center for Senior Living's Circle@Crown Café.
Located on Delcrest Drive just east of I-170, the café offers certified kosher dairy, affordable and delicious meals for a quick breakfast or lunch, either to dine-in or pickup. There's even a welcoming outdoor patio where diners can enjoy nice weather along with their meal.
And while the menu may be limited compared to larger, more established restaurants, Circle@Crown specializes in some fantastic sandwiches, such as the Mediterranean panini.
The panini is comfort food in sandwich form, and this one beautifully blended dill Havarti cheese, homemade olive tapenade and hummus together on toasted ciabatta bread. The grilled cheese was gooey and flavorful, which paired nicely with the hummus and tapenade. I was surprised at how savory and filling this sandwich was, even without any meat included in it. The sandwich is truly gourmet quality, for only $9.
If that sandwich doesn't tickle your fancy, the café also offers a variety of other options, including a high-quality tuna on toast sandwich, wide ranges of salads. Before 10:30 a.m., you can also purchase breakfast items such as scrambled eggs, omelets and an English muffin sandwich.
Along with other assorted snacks, including oversized chocolate chunk cookies and a variety of hot and cold drinks, Circle@Crown Café offers a quick, quality meal for a discounted price. Not only that, but additional donations to Crown Center with your order will help support its kosher meal program for seniors in need.
Circle@Crown Cafe is a program of Crown Center for Senior Living, a community based nonprofit organization. The cafe is open Monday-Thursday from 8 a.m. to 2 p.m., and on Fridays from 8 a.m. to 1 p.m. For more information about Circle@Crown Café, go to crowncenterstl.org/cafe or call 314 412-4350.