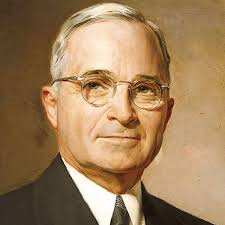 We asked our residents to reflect on history, and share a personal story or life narrative. We were so pleased that Betty, a Crown Center resident, responded and agreed to share her memory:

It was in the afternoon of April 12, 1945. Children were coming home from school. A beautiful spring day. Then over the radio – which was always on – came a news flash: President Roosevelt was dead. Oh, what wailing! What shock! Mothers ran out of their houses to front yards, crying to each other. "Did you hear? Whatever will we do?" Children looked at each other, stunned. Something terrible had happened. The worst part, said my mother, "A haberdasher is president!" A haberdasher? Was that some kind of monster? Oh, woe! We were doomed.

Of course the haberdasher was Harry Truman, who had briefly been a partner in a men's clothing store in Kansas City. He turned out to be a pretty good president. The memory of FDR's death far eclipses any memory of the war's end. It was an earthquake.

– Betty.