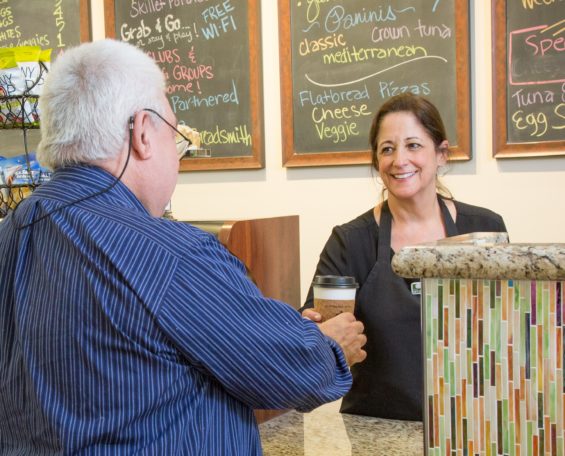 Circle@Crown Cafe Assistant
Description/Summary: Food service professional tasked with completing daily prep and menu execution of a kosher café as designed by the Food Service Director. The Circle@Crown is a program of Crown Center for Senior Living; 8350 Delcrest Drive, University City, MO; 63124.
Reports To:           Food Services Director
Hours:                    average 30-40 hours weekly; café is open for breakfast and lunch, Monday-Friday
Pay Range:           $10-$12 per hour depending upon experience
Available:             Position open immediately
Skills/Qualifications:
High school diploma or equivalent; and 2-3 years of experience or equivalent in commercial food service (including food preparation, plating, cleaning, stocking, and kitchen safety)
Good interpersonal communication skills, customer service background, and professional manner
Proven relevant work experience with outstanding references
Ability to take direction from and work with lay leaders, staff of varied disciplines, outside vendors, and a diverse group of senior adults
Detail-oriented organization skills including follow through
Advanced food service certification preferred
Job Responsibilities:
Takes direction from supervisor to ensure all aspects of Café food service maintain agency, state, county, and local standards
Prepares food product according to standard recipes while maintaining kosher status
Ensures a high standard of customer service
Maintains organized, clean, and sanitary conditions for all areas where food is served
Utilizes Point of Sale system
Other responsibilities as needed
Benefits:
Meaningful work with a variety of tasks at an outstanding community organization with a positive, professional environment
May be eligible for excellent benefits
Extensive contact and interaction with others, including senior adults
Ability to have input into schedule – great hours for food service work
Interested parties should submit a resume to Megan Zimmerman, Planning Director. mzimmerman@crowncenterstl.org. Or call (314) 991-2055 to have a job application sent for completion.