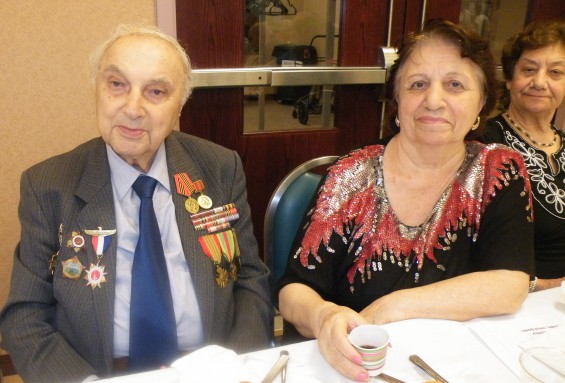 Each month, LeadingAge Magazine recognizes individuals for their accomplishments.  One of our residents, Beniamin Mkrtychyan was recognized in their November on-line issue.  Over 28,000 people receive the magazine.  Thanks to Mr. Mkrtychyan and his fascinating story.
Crown Center for Senior Living, St. Louis, MO
Beniamin Mkrtychyan's book may be written in Russian but his story is worth telling in any language. From Polish concentration camps to resistance fighting in France, from pogroms in Armenia to prison in Siberia, this Crown Center resident has seen more than most could imagine.
As an artist, he's even painted some of it along the way.
Mkrtychyan (pronounced "ma-ker-chen") recently published Memoirs, an autobiography that details his journey from a childhood in his native Armenia to his current home in St. Louis, and includes his harrowing experiences with both communists and Nazis.
Born in the town of Zangezura, the art student dreamed of life in front of a canvas but instead found himself imprisoned in the horrors of the German concentration camp system, being moved through three countries before finally arriving in France, where he escaped to join the French underground. Ironically, it was that time spent in the camps that would later make the KGB suspicious of him after his eventual return to Armenia. He would spend five years as a political prisoner in Siberia for drawing caricatures of Stalin, a charge he still denies.
But even in the gulag, his artistic talents wouldn't go to waste. Mkrtychyan would go on to draw pictures of the KGB abuse, torture and killings he witnessed, renderings later donated to a museum in Moscow.
Art has been a persistent force in Mkrtychyan's life. In the Siberian camp, he would create posters for the government after a day of hard labor. Later, he would do various murals and even portraits of important government officials.
He still paints. After coming to St. Louis in the early 1990s, he spent three years creating artwork for a local Armenian church. Painting is not a habit he plans to give up.
"An artist dies with a brush in his hand," he says.
– Randi Schenberg, community relations associate, Crown Center for Senior Living